What Will I Learn in Herzing's Online MSN – PMHNP Program?
The U.S. Bureau of Labor Statistics (BLS) projects 52% growth in job openings for NPs of all specialities over the 2020-2030 period.**  As a graduate of this MSN program, you will be equipped to meet the demand for mental health NPs by:
Providing holistic mental health care, using information and nursing research to address complex mental health care cases
Caring for children, young people, adults and elder adults
Offering psychological counseling (psychotherapy)
Providing patients and clients education on coping skills
Prescribing medication and monitoring patient progress
As a PMHNP, you can work in private practice, hospitals, community clinics and many other care settings.
Every Experience Counts – Varied, Immersive Clinical Experience
We make it possible for you to build the foundation of your mental healthcare career from a wide range of instructive, rewarding nursing experiences with patients across the lifespan. Our "Every Experience Counts" approach weaves real, everyday experiential learning into the 540-hour clinical component of the MSN – PMHNP. You can earn credit for direct patient care in your community or for telemedicine experience—an increasingly valuable tool for ensuring continuity and safety of mental healthcare.
Through a variety of different experiences, you can explore different approaches to mental healthcare and discover your professional emphasis. You'll also complete a 16-week, 180-hour immersion experience to ensure you're ready for your first job.
Flexible, Accelerated Study for Working Nurses
The online MSN – PMHNP program features flexible online coursework through Herzing's Everywhere Classroom. You'll have the opportunity to complete your classes online, on your time, making earning your MSN more convenient.
You can also begin this program as a BSN graduate or an ASN graduate – if you're an RN with an active, unrestricted license, you can apply.
BSN to MSN Option
The BSN to MSN option is a traditional MSN completion program that takes as few as 20 months of full-time study. We also offer a part-time enrollment option.
RN to MSN Options
RNs with an associate degree have two options for earning their MSN – PMHNP online.
RN to MSN – Go directly from RN to MSN in as few as 24 months. Ideal for nurses whose employers don't require a BSN.
RN to BSN to MSN – Complete two additional nursing degrees in as few as 32 months and satisfy employer BSN requirements.
Whichever option you choose, you'll still complete 585 hours of PMHNP clinical experience.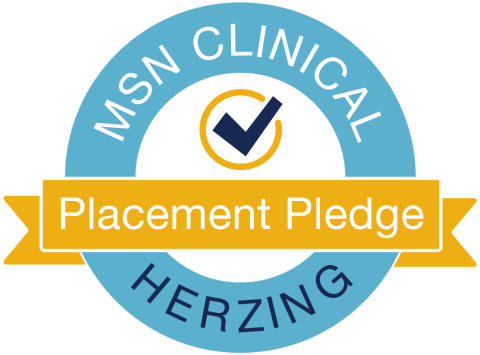 Your clinical placement is our pledge.
We understand securing clinical placement is one of the biggest concerns MSN students face.  As a Herzing student, we'll encourage you to find your own preceptor and clinical sites as there are many benefits to doing so. However, we provide extensive support should you find difficulty along the way. With Herzing, you are never on your own.
Because of our strong relationships with healthcare providers across the U.S. and our step-by-step Clinical Guidance Process, we are confident in our ability to help you find clinical placement. So much so that if you are unable to find a clinical site on your own, we pledge to step in and help you secure clinical placement. (Subject to terms and conditions outlined in the enrollment agreement.)
You're Much More Than a Number
At Herzing, we believe that providing you with a caring, supportive community will have a positive impact on your learning experience. We know our students by name and are committed to your academic, personal, and professional success. Discover why Herzing's student-first approach, individual attention and caring community set us apart from other colleges and universities.
Your Degree Options, Your Career Choices
Earning a degree is easier with choices. Some Herzing degrees are offered at one of our campuses, through our convenient online division or as a combination of both campus and online classes. Whether you earn your degree online or at one of our campus locations, you can expect the personalized attention and support for which Herzing is known.