Advance to Primary Care with Your MSN Degree
Demand for nurse practitioners (NPs) of all specialties is growing. The U.S. Bureau of Labor Statistics (BLS) projects 52% growth in job openings for NPs over the 2020-2030 period, which could result in as many as 114,900 new jobs becoming available.**
Prepare to meet demand – and start writing the next chapter of your nursing career – with Herzing University. Our online Master of Science in Nursing – Adult Gerontology Primary Care Nurse Practitioner program offers you a pathway to primary care practice focused on the adult population. In as few as 20 months, you can be ready to serve as a primary care provider in outpatient care settings.
This program equips you to provide preventative, acute and chronic healthcare to patients from adolescence (age 13) to the elder years. You'll build advanced clinical practice skills and gain competence in building strong patient relationships, acting as an advocate, providing health education and collaborating with other healthcare professionals.
After graduation, you'll be equipped to pursue licensure and certification as an NP, including:
Adult-Gerontology Primary Care Nurse Practitioner (A-GNP) certification from the American Academy of Nurse Practitioners (AANP)
Adult-Gerontology Primary Care Nurse Practitioner certification (AGPCNP-BC) from the American Nurses Credentialing Center (ANCC)
We offer multiple pathways to your MSN degree. All of them include exceptional clinical preparation, including a 16-week, 180-hour immersion experience at the end of your program designed to solidify the skills and knowledge you've learned during your studies—and ensure you enter the workforce ready for your first AGNP job.
RN to MSN Pathways
We know that employer requirements—and your career goals—may vary. That's why we offer RNs with an associate degree two options to become an AGNP with Herzing. These include:
RN to MSN – Best for nurses who want to enter AGNP practice right away. Finish in as few as 24 months.
RN to BSN to MSN – Ideal for nurses whose employer requires a BSN. Finish in as few as 32 months.
Both options require the completion of 585 clinical hours and the 16-week immersion. Whichever option you choose, you'll benefit from convenient online study, personal support and our clinical placement pledge.
BSN to MSN Pathway
Nurses with a Bachelor of Science in Nursing can earn the MSN – AGPCNP in as few as 20 months of accelerated study. BSN to MSN students also complete 540 clinical hours and the 16-week immersion.
The Herzing University Difference
At Herzing, we're focused on helping you reach your highest career goals in nursing while also ensuring that the communities we serve benefit from highly competent nurse practitioners. That's why we offer:
Convenient online education classes that let you work and study at the same time
Mentorship and guidance from doctoral-prepared nursing faculty with extensive clinical experience
Hands-on clinical experience and an NP immersion
Access to a clinical placement coordinator and our clinical placement pledge
Certification exam preparation as part of your degree
This program is also accredited by the Commission on Collegiate Nursing Education (CCNE).*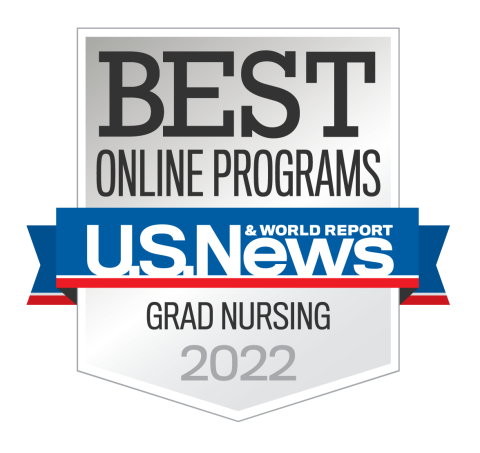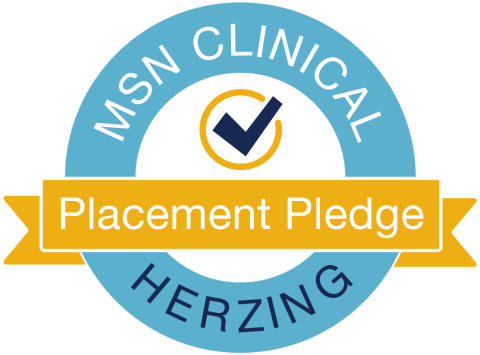 Your clinical placement is our pledge.
We understand securing clinical placement is one of the biggest concerns MSN students face.  As a Herzing student, we'll encourage you to find your own preceptor and clinical sites as there are many benefits to doing so. However, we provide extensive support should you find difficulty along the way. With Herzing, you are never on your own.
Because of our strong relationships with healthcare providers across the U.S. and our step-by-step Clinical Guidance Process, we are confident in our ability to help you find clinical placement. So much so that if you are unable to find a clinical site on your own, we pledge to step in and help you secure clinical placement. (Subject to terms and conditions outlined in the enrollment agreement.)
What Will I Learn in the MSN – AGPCNP Program?
The ACPCNP program prepares you to provide primary care for adults (age 13 and up) under the direction of a physician. Our program aligns with core competencies for adult gerontology nurse practitioners as described by the American Association of Colleges of Nursing (AACN). When you graduate, you should be able to:
Contribute to improved knowledge and care of the adult gerontology population
Use scientific knowledge and theoretical foundations to assess psychological, physiological and sociological development and aging
Lead the facilitation, planning and coordination of care delivery to the adult gerontology population
Promote safety and risk reduction
Continually evaluate the quality of care delivery
Integrate appropriate technologies to deliver healthcare in remote or face-to-face encounters
Aid in the development of health promotion programs within a health community or system
Provide wellness promotion and disease prevention services that clearly explain costs, risks and benefits to individuals
Some of the required courses you will take during your program include:
Health Policy and Management
Theoretical Foundations for Nursing
Technology and Nursing Informatics in Advanced Practice
Organizational Systems and Behaviors
Research Methods and Evidence-Based Practice
Health Promotion Across the Lifespan
Clinical Decision-Making
Healthcare of Women Across the Lifespan
Evidence-Based Nursing Research and Practice
You're Much More Than a Number
At Herzing, we believe that providing you with a caring, supportive community will have a positive impact on your learning experience. We know our students by name and are committed to your academic, personal, and professional success. Discover why Herzing's student-first approach, individual attention, and caring community set us apart from other colleges and universities.