Gain the Skills to Lead the Way
Prepare to facilitate change to achieve positive outcomes by building on your clinical expertise to understand the business of healthcare.  Through our unique program you will:
Gain the tools to help you plan, implement and evaluate system-wide strategies to move your organization toward successful outcomes
Develop the business understanding to make high-level administrative decisions
Be prepared to analyze the impact regulatory agencies, such as the Centers for Medicare and Medicaid Services and the US Department of Health and Human Services, exert on healthcare systems - including human resources, fiscal stability and reimbursements, total quality improvement and attaining positive outcomes within a system
Gain the skills to help you confidently apply ethical and legal principles when making decisions to ensure the best care for all patients and their unique needs.
As a nurse, you know the career field is ever-changing. A Herzing MSN in Nursing Leadership and Administration can  help you stay at the forefront by offering you the tools you need to effectively evaluate your organization's ability to adapt to the changing healthcare landscape.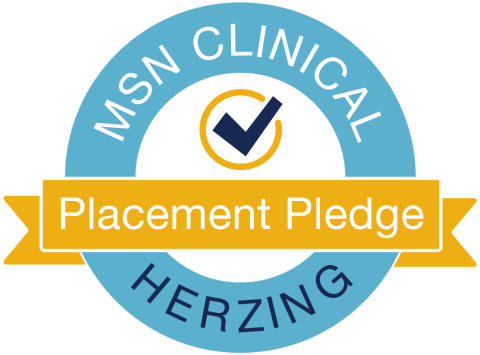 Your clinical placement is our pledge.
We understand securing clinical placement is one of the biggest concerns MSN students face.  As a Herzing student, we'll encourage you to find your own preceptor and clinical sites as there are many benefits to doing so. However, we provide extensive support should you find difficulty along the way. With Herzing, you are never on your own.
Because of our strong relationships with healthcare providers across the U.S. and our step-by-step Clinical Guidance Process, we are confident in our ability to help you find clinical placement. So much so that if you are unable to find a clinical site on your own, we pledge to step in and help you secure clinical placement. (Subject to terms and conditions outlined in the enrollment agreement.)
What will I learn in Herzing's MSN-NL program?
Our program curriculum focuses on healthcare organizations as adaptive systems.  Here, you'll obtain the skills needed to understand the complex healthcare system.  American Organization of Nurse Executives (AONE) core components are integrated into our curriculum, which prepares our students to meet the competencies of nurse executives. 
Required core courses include:
Health Policy and Management
Theoretical Foundations for Nursing
Technology and Nursing Informatics in Advanced Practice
Organizational Systems and Behaviors
Research Methods and Evidence-Based Practice
Required courses in Nursing Leadersip concentration include:
Advanced Physical Assessment
Management of Pharmacotherapeutics in Advanced Practice
Healthcare Economics, Finance and Resource Management
Leading and Managing in Complex Organizations
Dynamic Healthcare Leadership Practicum
Transformation of Care in Health Delivery Systems Practicum
Take the next step to learn more about Herzing's MSN-Nursing Leadership and Administration program.  
You're Much More Than a Number
At Herzing, we believe that providing you with a caring, supportive community will have a positive impact on your learning experience. We know our students by name and are committed to your academic, personal, and professional success. Discover why Herzing's student-first approach, individual attention, and caring community set us apart from other colleges and universities.