Meet the National Need for Highly Trained Nurse Practitioners
The U.S. Bureau of Labor Statistics (BLS) projects 52% growth in job openings for NPs over the 2020-2030 period, which could result in as many as 114,900 new jobs becoming available nationwide.** Herzing's online FNP program is a population-focused curriculum completed in the primary care setting that aims to produce FNPs who can care for patients across the lifespan, from newborns to the elder years. Our program is designed for busy professionals. Flexible online course schedules let you complete your MSN in as few as 20 months when attending full-time.
Through Herzing's MSN-FNP program you will:
Benefit from regional clinical coordinators who serve as a resource in helping you find and secure appropriate clinical sites
Have the opportunity to collaborate with nurses from around the country through online coursework
Gain assistance from masters-prepared academic coaches who offer one-on-one assistance and coaching to enhance study skills, build confidence, and provide support in helping you achieve academic success.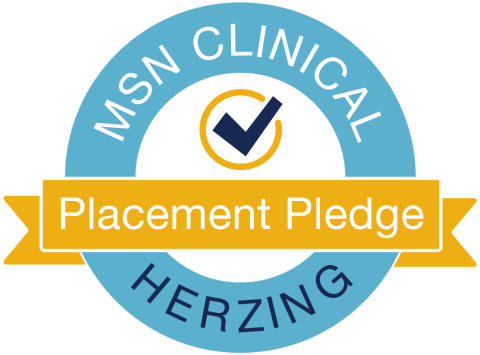 Your clinical placement is our pledge.
We understand securing clinical placement is one of the biggest concerns MSN students face.  As a Herzing student, we'll encourage you to find your own preceptor and clinical sites as there are many benefits to doing so. However, we provide extensive support should you find difficulty along the way. With Herzing, you are never on your own.
Because of our strong relationships with healthcare providers across the U.S. and our step-by-step Clinical Guidance Process, we are confident in our ability to help you find clinical placement. So much so that if you are unable to find a clinical site on your own, we pledge to step in and help you secure clinical placement. (Subject to terms and conditions outlined in the enrollment agreement.)
What will I learn in Herzing's MSN-FNP program?
Candidates for Herzing's online MSN Family Nurse Practitioner degree must complete 48 semester hours, 30 of which are in the FNP concentration, and 585 clinical hours. 
Required core courses include:
Health Policy and Management
Theoretical Foundations for Nursing
Technology and Nursing Informatics in Advanced Practice
Organizational Systems and Behaviors
Research Methods and Evidence-Based Practice
Required direct care core courses include:
Advanced Health Assessment
Advanced Pathophysiology
Management of Pharmacotherapeutics in Advanced Practice
Required courses in FNP concentration include:
Health Promotion Across the Life Span
Adult Healthcare
Healthcare of Women across the Lifespan
Healthcare of Infants, Children and Adolescents
Roles for Nurse Practitioners
Geriatric Healthcare
Take the next step to learn more about Herzing's MSN-Family Nurse Practitioner program.  
You're Much More Than a Number
At Herzing, we believe that providing you with a caring, supportive community will have a positive impact on your learning experience. We know our students by name and are committed to your academic, personal, and professional success. Discover why Herzing's student-first approach, individual attention, and caring community set us apart from other colleges and universities.