Be There When You're Needed Most with Your MSN Degree
Do you thrive in emergency care situations? Our online accelerated Master of Science in Nursing – Nurse Practitioner program offers you a pathway to acute care practice focused on the adult population. In as few as 24 months, you can be ready to provide advanced care to patients suffering from acute illness and injury. Career opportunities include emergency departments, surgical departments, urgent care clinics, walk-in clinics and more.
This program focuses on urgent and emergency healthcare for patients from adolescence (age 13) to the elder years. In it, you can develop advanced clinical practice skills, deepen your understanding of evidence-based nursing, and equip yourself for more effective collaboration and leadership in healthcare teams.
The need for NPs in all specialties is growing. The U.S. Bureau of Labor Statistics projects 52% growth in job openings for NPs from 2020-2030.** Be ready to meet demand with Herzing's flexible online MSN program.
After graduation, you'll be prepared to pursue licensure and certification as an NP. Options include:
Adult-Gerontology Acute Care Nurse Practitioner Certification (AGACNP-BC) from the American Nurses Credentialing Center (ANCC)
Acute Care Nurse Practitioner Certification – Adult-Gerontology (ACNPC-AG) from the American Association of Critical-Care Nurses (AACN) Certification Corporation
Find Your Path to an Acute Care NP Career
We offer multiple pathways for nurses who want to earn MSN degree. Each option provides comprehensive clinical education, including at least 585 hours of clinical experience designed to help you develop the competency and confidence you need to graduate prepared for your first AGACNP job.
BSN to MSN Pathway
Nurses with a Bachelor of Science in Nursing can earn the accelerated MSN – AGACNP in as few as 24 months of flexible online study, including 585 clinical hours. Students benefit from our clinical placement pledge and personal mentorship from experienced nursing faculty members.
RN to MSN Pathways
We offer two different RN to MSN pathways. They're designed to accommodate nurses whose employers may require a BSN as well as those who are ready to go straight to the NP role. Pathways include:
Accelerated RN to MSN – Best for nurses who want to enter AGACNP practice right away. Finish in as few as 28 months.
RN to BSN to MSN – Ideal for nurses whose employer requires a BSN. Finish in as few as 36 months.
Both options require 630 hours of clinical placement experience, and both offer you the benefits of convenient online coursework as well as Herzing's clinical placement pledge.
The Herzing University Difference
At Herzing, we want to help you achieve your goal of becoming an acute-care nurse practitioner. We also want to ensure that you graduate ready to provide the best possible care in the communities we serve. That's why we offer:
Convenient online classes that accommodate your busy work schedule
Mentorship and guidance from doctoral-prepared nursing faculty who bring real-world insight to the classes they teach
Hands-on clinical experience to prepare you for your new role in acute care
Access to a clinical placement coordinator and our clinical placement pledge
Certification exam preparation as part of your degree
This program is also accredited by the Commission on Collegiate Nursing Education (CCNE).*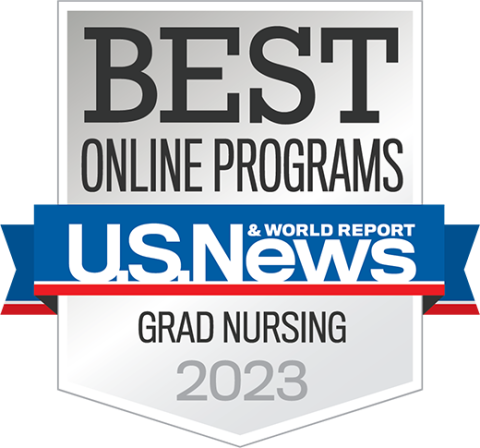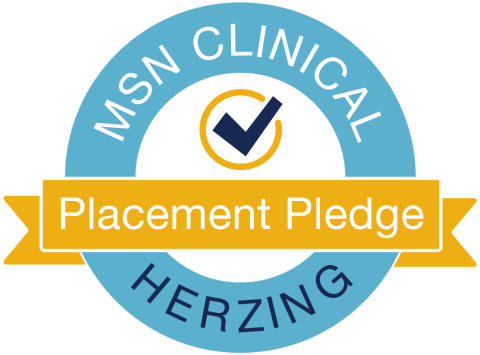 Your clinical placement is our pledge.
We understand securing clinical placement is one of the biggest concerns MSN students face.  As a Herzing student, we'll encourage you to find your own preceptor and clinical sites as there are many benefits to doing so. However, we provide extensive support should you find difficulty along the way. With Herzing, you are never on your own.
Because of our strong relationships with healthcare providers across the U.S. and our step-by-step Clinical Guidance Process, we are confident in our ability to help you find clinical placement. So much so that if you are unable to find a clinical site on your own, we pledge to step in and help you secure clinical placement. (Subject to terms and conditions outlined in the enrollment agreement.)
What Will I Learn in the MSN – AGACNP Program?
The ACACNP program prepares you to provide care for acutely ill or injured adults (age 13 and up) under the direction of a physician. When you graduate, you should be able to:
Integrate scientific evidence from nursing when designing and implementing outcome measures for patient care
Demonstrate leadership skills that emphasize ethical and critical decision-making to promote safe, quality care within a systems framework
Apply evidence-based standards when evaluating quality of care
Synthesize research and theory from across nursing and management to guide organizations towards successful outcomes
Apply technology and informatics to coordinate and ensure safe, quality care
Influence policy development to promote public health
Articulate a leadership role within inter-professional teams to provide safe, quality care
Incorporate organizational and culturally sensitive client and population centered concepts to plan, deliver, manage and evaluate care
Implement scholarly activities in selected individuals, populations, and systems
Some of the required courses you will take during your program include:
Health Policy and Management
Theoretical Foundations for Nursing
Technology and Nursing Informatics in Advanced Practice
Organizational Systems and Behaviors
Research Methods and Evidence-Based Practice
Roles for Nurse Practitioners
Clinical Decision-Making for the AGACNP
Advanced Practice Specialty Procedures and Skills for Acute Care
You're Much More Than a Number
At Herzing, we believe that providing you with a caring, supportive community will have a positive impact on your learning experience. We know our students by name and are committed to your academic, personal, and professional success. Discover why Herzing's student-first approach, individual attention, and caring community set us apart from other colleges and universities.